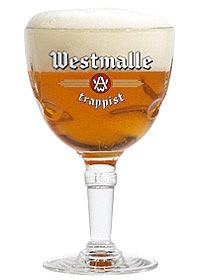 Westmalle Tripel is a clear, golden yellow Trappist beer that undergoes a secondary fermentation in the bottle (9,5% alcohol). It is a complex beer with a fruity aroma and a nice nuanced hop scent. It is soft and creamy in the mouth, with a bitter touch carried by the fruity aroma. An exceptional beer, with a great deal of finesse and elegance. And with a splendid long aftertaste.
The Westmalle Tripel is indeed called the "mother of all tripels". This type of beer was first brewed in Westmalle abbey in 1934 when the new brewing hall came into use. The current formula has stayed practically unchanged since 1956, thus more than 50 years.
This beer is generally served in 33 cl bottles, precisely the volume of the accompanying glass goblet. The bottles are sold individually, in handy packs of six or in crates of 24 bottles. And of course this beer is served in the better horeca outlets.
Tripel is also available in 75 cl bottles. It is remarkable that the beer matures differently in these larger bottles. The fruity aroma is somewhat softer and riper, and the beer gets a light touch of vanilla.
Share: