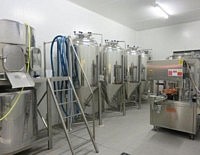 Fort Lapin Brewery is an authentic, craft brewery just north of the city centre of Bruges. The name is taken from the place where it is actually located. Originally, Fort Lapin was a fortress built in 1664 to protect Bruges' commercial hub.
The brewery was founded in late 2011 by Kristof Vandenbussche who is also the head brewer. After years of experimenting, we decided to share our creations with the public at large. With growing success.
At our brewery, quality comes first. It is our intention to offer the customers the beers of only the highest quality, produced in our own brewery according to home-made recipes.
This can only be done, of course, by using the best raw materials, keeping everything small-scale and combining this with years of experience and lashings of enthusiasm.
We pride ourselves on the fact that we personally select the hops at the hops farms, which is why we have only used Belgian hops to date.
Share: