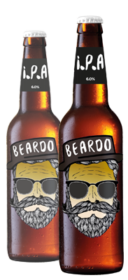 Beardo is a British beer, it has an alcohol content of 6%.
 Beardo Cultivating the finest facial furntiture is a complex task.
The discerning beard wearer deserves a tipple of hoppy intensity to complement their efforts.
Cut through the fuzz with hits of a fruity citrus zing.
An IPA for serious Beardos.
Share: