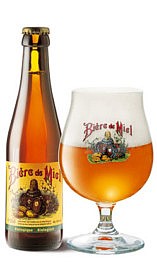 Bière de Miel is a Belgian beer, it has an alcohol content of 8%.
Bière de Miel "beer with honey" is a top fermentation beer with refermentation in the bottle.
Already in 1880, this honey-beer was a speciality of our farm-brewery Rimaux-Deridder,  very well known and awarded with many prices on various agricultural exhibitions.
When the family Dupont took over the brewery, this beer disappeared from the marked, but in 1997, more than 75 years later, the Bière de Miel  was "re-created" in an organic version.
The label we use on the bottles is an exact reproduction of the original.
This amber beer with strong pronounced honey aromas, has, very predictable, a dominating taste of honey.
But we cannot catalogue this Bière de Miel in the range of sweet beers, on the contrary.
The sugar in the organic honey, fully refermented in the bottle, creates a beer, not sweet at all but full of honey aromas and ditto taste.
Our choice of strong, organic honey types result in a very particular taste.
A real refermentation in the bottle, which continues for a long time in your cellar make this a really complex beer .
Share: