Burnt Mill x Cloudwater Lying Low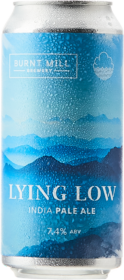 Burnt Mill x Cloudwater Lying Low is a British beer, it has an alcohol content of 7.4%.

Well this is certainly something. Crammed full of extra pale malt, caragold malt, rice and wheat, then topped off with classic Citra and Mosaic hops, as well as the rarer Enigma and Idaho-7. It's perfectly rounded, with a beautiful peach and passion fruit aroma. Incredibly refreshing, it certainly doesn't drink like a 7.4% ABV beer – which is a real testament to Burnt Mill's brewing prowess.
Share: