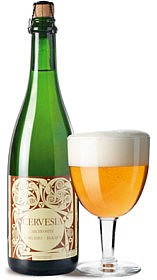 Cervesia is a Blond Belgian Beer, it has an alcohol content of 8%.
Cervesia is a blond top fermentation beer with refermentation in the bottle.
On demand of the "Archéosite d'Aubechies", which is an archeological site in a little village nearby the brewery, this beer was created in 1983, exclusifly for this site.
The most unusual composition of this beer is due to a long and intens research by Mr. André Hallard, at that time "Master of Research" of the F.N.R.S.
The aromas of flowers and herbs, a very fresh and spicy touch but also a lot of hidden aspects are the result of a mixture of barley and malt, hop and many different herbs and spices.
The association of these barley and wheat malts make this Cervesia a very fresh and thirst-quenching beer.
A real refermentation in the bottle, even for many years in your cellar, results in a very unusual beer.
Share: