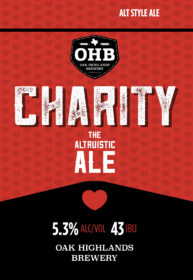 Charity is an American beer, it has an alcohol content of 5.3%.
German Alt-Style Ale originally from the Düsseldorf area of Germany. Charity is deep amber in color, with a crisp, but not sweet, malty flavor that finishes dry with a moderate hop bitterness.
In the spirit of the name, OHB will donate 10% of the sales of Charity to a rotating non-profit on a quarterly basis.
Share: