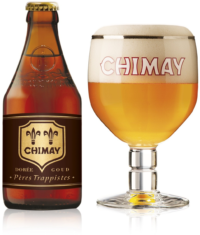 Chimay Gold is a Blond Belgian Beer, it has an alcohol content of 4.8%.
The Chimay Gold, which is brewed in the heart of Scourmont Abbey, was for long reserved for the monastic community and its guests and staff. Its refreshing aromas of hops and spice are now yours to try.
THE CHIMAY GOLD IS AN AUTHENTIC TRAPPIST PRODUCT
Our recipe remains unchanged from the beginning and we are transparent about the ingredients that compose our beers. Water, malted barley, sugar, hops, yeast, bitter orange peel and coriander. Sugar is necessary for the creation of carbon dioxide during the second fermentation. Chimay Gold is a beer fermented in the bottle that contains yeast.
Share: