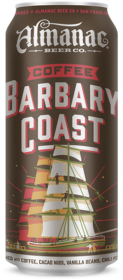 Coffee Barbary Coast is an American beer, it has an alcohol content of 10%.

Imperial Stout Brewed With Sightglass Coffee, Dandelion Cacao Nibs, Chili Pepper, Oak, and Sea Salt

Every great city has its wild side, and in 19th century San Francisco, that was the Barbary Coast. From this chaotic cauldron emerged San Francisco's vibrant jazz culture and a rich legacy of poets, artists, writers, and entertainers. Inspired by this creative tradition, this decadent imperial stout was brewed with oak staves, sea salt, a hint of spicy chili, Dandelion Chocolate's cacao nibs and Sightglass Coffee. Pair with rich chocolate cake and a flair for adventure!
Share: