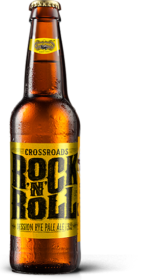 Crossroads Rock'n' Roll is a Brazilian beer, it has an alcohol content of 3.8%.

Crossroads has finally come of age! Considered the best rock and live music bar in Curitiba, he turned 18 and, to celebrate that fact the famous freedom of adulthood, decided to have his own beer. DUM was chosen to develop the recipe with the consulting of the blog BarDoCelso.com.
We got together to taste several beers and thus reach a consensus of the desired profile. With the definition of the recipe, the first step was to make a test in the pot of the Theme Park. As soon as the beer was ready, we did two dry-hopping tests and took it to the Cross staff to drink. The success was immediate and it was decided that we would produce the version with more hops.
A softened version of an American IPA, with less bitterness, less body and lower alcohol content, but retaining all the aroma of American fruity and citrus hops. In addition, it contains rye, which gives it a unique spiciness and texture. All of this resulted in an extremely aromatic beer, reminiscent of citrus and passion fruit, with light touches of malt and rye, which gives lightness and freshness. It is a beer with a lot of drinkability, Rock'n Roll was thought to be drunk all night. With Bastards Brewery production and know-how, Rock'n Roll Session Rye Pale Ale is sold exclusively at Crossroads. It was a partnership that worked and we feel honored to be part of Cross's history.
Share: