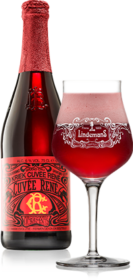 Old Kriek Cuvée René is a Belgian beer, it has an alcohol content of 7%.
This is the masterpiece of which I am most proud, as is one of my sons after whom it is named.
What makes this traditional kriek special is that it is brewed with whole cherries. Since real Schaerbeek cherries are scarce, Lindemans Brewery has found their perfect equivalence elsewhere in Europe.
It is deep red in colour and its foam head is slightly pink. Very refreshing, this beverage is a perfect thirst-quencher which, thanks to its fizzy and tangy flavour, is ideal as an aperitif.
Share: