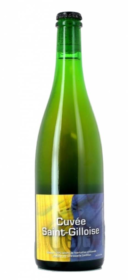 Cuvée Saint Gilloise is a Belgian Lambic beer, it is fermented spontaneously by being exposed to wild yeasts and bacteria native to the Zenne valley, it has an alcohol content of 5.5%.
Two-year-old lambic in which fresh HallertauMittelfrüh hops have been soaked.
A perfect balance is struck between the lambic's natural acidity and the Hallertau hops' refined bitterness.
Share: