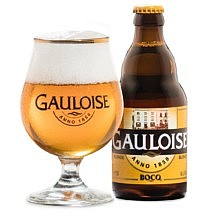 Gauloise Blonde is a Blond Belgian Beer, it has an alcohol content of 6.3%.
Its slight bitterness gives it a slightly fruity and hoppy aroma. Not too strong but round strong character .
A powerful beer structure and a lovely strength. The bubble is fine and soft . The palate is smooth, round and fruity (pear, orange, blond tobacco, milk chocolate). In the end palate, a tangy side and a little bitterness is clearer, giving it balance with its freshness.
Share: