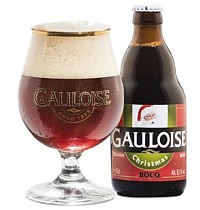 Gauloise Christmas is a Belgian beer, it has an alcohol content of 8.1%.
Appearance : Brown with a dark robe, generous and fine white foam.
Nose: Rich with a touch of coriander and liquorice.
Taste: Round, heady, pleasant aromas of the special malts used.
Remark: tasting between 8 ° and 12 °, typical 'end of the year' beer (high-end beer to enjoy with wisdom with family and friends).
Share: