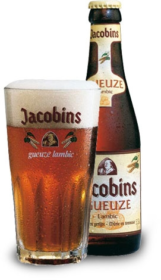 Geuze Jacobins is an Authentic Belgian Geuze "Sour Beer", It is made by blending young (1-year-old) and old (2- to 3-year-old) lambics, which is bottled for a second fermentation, it has an alcohol content of 5.5%.
The basic ingredient of our Jacobins Gueuze is wort made of wheat and malted barley.
After it has cooled down in the cooling vessel, the wort spontaneously ferments in big oak barrels.
During this fermentation process the flavour evolves considerably. 18 to 24 months later we finally obtain the lambic beer.
This matured lambic beer is then blended with young beer to obtain our Jacobins Gueuze. With its light amber colour and rounded sour-sweet flavour it definitely appeals to real Gueuze lovers.
Serve in a typical gueuze glass.
Share: