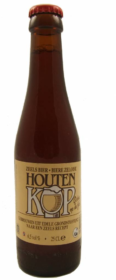 Houten Kop is a Belgian beer, it has an alcohol content of 6.5%.
Houten Kop is a contemporary recipe of and for a real inhabitant from Zele. The Strubbe brewery brews according to traditional methods, what stands for high quality.
Characteristics: It is best to serve the Houten Kop fresh, straight from the refrigerator. Lovers of beer at cellar temperature will notice a more pronounced flavour. Pour it out powerfully in order to obtain a wonderful head and a crystal clear beer. Do you want some more taste and an extra asset for your health? Then take along the deposit of vital barm (famous for its natural influence on the human organism).
Share: