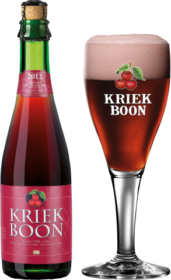 Kriek Boon is an Authentic Belgian Lambic"Sour Beer", it has an alcohol content of 4%.
Kriek Boon is a traditional Belgian Lambic fruit-beer. It is brewed accoring to the traditional Lambic style of spontaneous fermentation.
Only fresh cherries (25%) are used.
With only 4% Alc/vol it is a perfect summer drink.
Share: