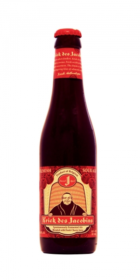 Kriek Jacobins is an Authentic Belgian Kriek Beer, it has an alcohol content of 5.5%.
The basic ingredient of our Jacobins Kriek is wort made of wheat and malted barley. This wort is first boiled and then transported to the brewery's open cooling vessel to cool down.
Afterwards it spontaneously ferments in big oak barrels, giving the beer its refined flavour and aroma.
To obtain its true "kriek" or cherry flavour, natural cherry juices are also added. The fruitiness of the aroma clearly reveals itself in the mouth. Our Jacobins Kriek has a well-balanced, pleasant and slightly sweet flavour, which is best enjoyed when drunk out of its own bowl-shaped glass. An excellent thirst quencher and… perfect for drinking in an outdoor café!
Share: