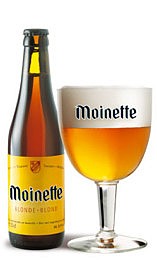 Moinette Blonde is a Blond Belgian Beer, it has an alcohol content of 8%.
Moinette blonde is a top fermentation beer with refermentation in the bottle.
Ever since its creation in 1955, this beer is considered as "the showpiece" of the brewery Dupont on the Belgian market.
For centuries, the region where the brewery is situated, was pretty swampy, (swamp = marais (français moderne) = moëne (français ancient), so the name Moinette was linked to this "moëne region".
In the little village of Tourpes existed also a mill and a "Cense de la Moinette", both belonged to the Dupont dynasty. (cense = farmstead).
Originally, the name "Abbaye de la Moinette" was used for this beer, but since 1980 the name "Moinette" has become the commercial name.
Coppery blond with many fine hop aromas, Moinette blonde is a very refreshing beer, thanks to its subtle balance between sweet, bitter and fruity.
The selection of our yeasts gives this beer its typical aroma and taste.
A real refermentation in the bottle, which continues for a long time in your cellar, results in a complex taste and harmonious bouquet.
Share: