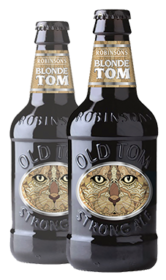 Old Tom is a British beer, it has an alcohol content of 8.5%.

Old Tom is almost as old as the brewery itself. Dubbed 'The original craft beer' this dangerously drinkable legend was born in 1899, when Tom, the old brewery cat, was sketched into immortality by the head brewer.
This superior dark ale is recognised, nationally and internationally, as one of the premier strong ales. It has won some of the industry's most prestigious awards, including World's Best Ale and Champion Beer of Britain.
Share: