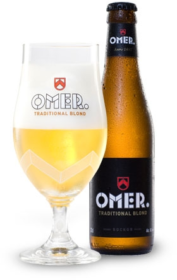 Omer is a Blond Belgian Beer, it has an alcohol content of 8%.
Omer is made of excellent summer malted barley from the Loire region (France) and pure water. During the brewing process sugars are liberated that will serve later to nourish the yeast. During the cooking process 3 varieties of hops from Germany, Slovenia and the Czech Republic are added to give the beer the specific aroma and bitterness.
After this cooking the top-fermenting yeast is added. The top fermentation process lasts 4-5 days at about 20°C. This yeast gives the beer its fruity and full-flavoured character.
After this main fermentation the beer is lagered for 3 weeks at 0°C.
Then the beer is filtered. Fresh yeast and sugar are again added to engine the refermentation after the beer is being bottled. This refermentation goes on for 14 days at a high temperature of 25°C. Here the sugars are transformed into alcohol and carbon dioxide. They give the beer the nice head while pooring. Finally the beer needs to rest for 3 weeks.
Share: