Oude Geuze Boon Black Label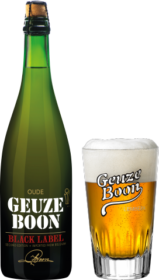 Oude Geuze Boon Black Label is an Authentic Belgian Geuze "Sour Beer", It is made by blending young (1-year-old) and old (2- to 3-year-old) lambics, which is bottled for a second fermentation, it has an alcohol content of 7%.
Black Label "Limited Edition" (2015)
Ancient Geuze Boon Black Label was created in 2015 to celebrate the 40th anniversary of Brewery Boon. This Old Geuze is characterized by its dry finish, fullness, balanced acids and vibrant sparkling. Using one, two and three year old Lambiek of oak feeders, Black Label is bottled in 75cl bottles.
Black Label "Second Edition" (2016)
Beginning 2016 a 2nd edition was bottled. For this Second Edition, another blend was made, keeping the main characteristics of this Old Geuze dry, yet full-fledged, but with the taste profile slightly different. Compared with the first edition, where the alcohol content was 7%, the Second Edition Black Label contains slightly less: 6.4%. The fruity aromas of grapefruit and green apples are discussed in the Second Edition. He is also softer what makes it an excellent Old Geuze as a thirst lesson during the warm days of the year.
Black Label "Edition N ° 3" (2017) – New!
In November 2016, Black Label Edition N ° 3 was bottled. The taste of this Black Label is a bit different. A very characterful full-bodied flavor, but still typically extra dry like the earlier editions. Citrus fruits such as grapefruit are more discreet than in the Second Edition, vanilla and oak are more prominent.
Perseverance and a dry finish, a difficult combination
It is thanks to our many years of experience and our new brewing hall built in 2013 that we can shift the limits of traditional Lambiek beers. This experience and this tool allow us to continue and completely create new Geuzes with a great complexity and balance. It allows us to explore new possibilities. Bringing such dry finish and fullness together was a big challenge. But the result is a pleasant, complex and well-balanced Old Geuze.
Share: