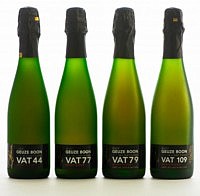 Oude Geuze Boon VAT 44 is an Authentic Belgian Geuze "Sour Beer", It is made by blending young (1-year-old) and old (2- to 3-year-old) lambics, which is bottled for a second fermentation, it has an alcohol content of 7%.
Oude Geuze Bean VAT44 was the first monoblend to be bottled by Brewery Boon. A monoblend is an ancient geuze in which 90% old lambik is used of the same large oak barrel (fodder). A little bit of young lambik is added in this monoblend for the fermentation bottle, which gives the beer its sparkling, supple and complexity.
By using lambik from the same fodder, the character of that particular feeder appears in every monoblend. For example, the number in the name of the beer, for example, refers to VAT 44- to the feed number. So far, another feeder has been used for this family of beers every time.
Share: