Oude Geuze Vintage 3 Fonteinen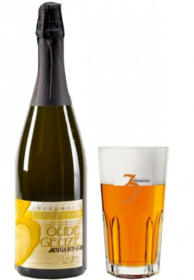 Oude Geuze Vintage 3 Fonteinen is an Authentic Belgian Geuze "Sour Beer", It is made by blending young (1-year-old) and old (2- to 3-year-old) lambics, which is bottled for a second fermentation, it has an alcohol content of 6%.
Oude Geuze Vintage is 3 Fonteinen's reserve series geuze. Unlike regularly released 3 Fonteinen Oude Geuze, which is widely distributed in Europe and North America, Oude Geuze Vintage is limited to local distribution, primarily within Belgium. It is stored within the cellars at 3 Fonteinen and released several years later instead of being released after the typical maturation period of six months for the regularly released Oude Geuze. It is released in both 375ml and 750ml bottles.
Share: