Psycho Penguin Vanilla Porter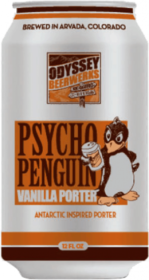 Psycho Penguin Vanilla Porter is an American beer, it has an alcohol content of 5.8%.

Embrace the wild side of life with Psycho Penguin Vanilla Porter – a Robust Porter brewed with Whole Madagascar Vanilla Beans. Rich flavors of sweet crystal malts along with artfully roasted grains balance well with the silky smoothness of the vanilla. A light hop addition adds sufficient bitterness to keep this beer tempered and insanely drinkable – a welcome beer for all seasons of the year. Whether you're an everyday porter drinker or an interested novice, our Psycho Penguin will drive you mad!
Share: