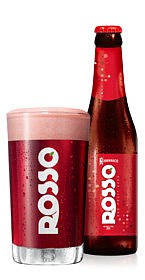 Rodenbach Rosso is a Belgian Sour beer, it has an alcohol content of 4%.
Rodenbach Rosso is an authentic, easily digestible, sweet and sour, refreshing beer. Rodenbach Rosso is brewed from two-year-old Rodenbach beer – aged in oak casks – blended with young Rodenbach, following which the brew is partially macerated with cranberries, raspberries and sour cherries, before the natural juices of these red berries are added. Rodenbach Rosso's unique fresh-fruit taste mainly comes from the carefully selected cocktail of fruits and the beer matured in wooden casks. Rodenbach Rosso, with its modern red design, is served in an original glass, circular at the top and oval at the base.
Brewer Rudi Ghequire describes the beer as follows:  This mixed-fermentation fruit beer is fresh, fruity and very refreshing, with a slightly dry aftertaste, the colour of a young Burgundy wine and a low alcohol content. This makes the beer very refreshing, allowing our creation to stand out compared to many other fruit beers on the market.
Share: