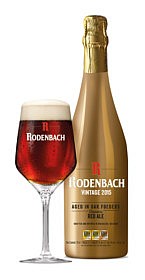 Rodenbach Vintage is a Belgian beer, it has an alcohol content of 7%.
Rodenbach Vintage is the unique result of our RODENBACH-brewers selecting the cask which has produced the best beer after two years of maturation: "cask of the year". The cask number always appears on the label, and the year refers to the start of maturation.
Rodenbach Vintage is 100% matured beer, which results in a superior taste. RODENBACH Grand Cru. Its taste is complex and rounded, intense and refreshing. It is characterised by an acidic, appley fruitiness combined with caramel, wild honey and oak with a touch of vanilla, cherry and liquorice. The aroma consists of touches of caramel and oak, as well as green apples mixed with honey and chocolate. The slightly sour, fruity aftertaste is long and nicely balanced, just like a Grand Cru wine.
Share: