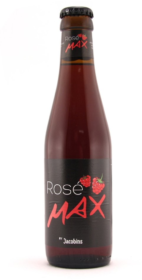 Rosé Max is a Belgian beer, it has an alcohol content of 4.5%.
Rosé Max completes the existing range of Max beers. This beer contains 4,5% vol. alc, is based on wheat beer, composed of 70% of malt and 30% of wheat and is enriched with natural juice of red fruits and natural aromas.
The beer has a clear and red colour. The refreshing and fruity flavour makes you long for a hot and long summer! Consumers who prefer light and easy drinking beers will certainly love Rosé Max.
They have two reasons to try it: it's a new delicious beer with the quality guarantee of the Max range.
Share: