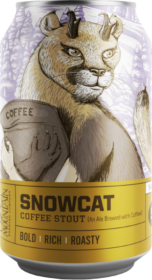 Snowcat is an American beer, it has an alcohol content of 5.9%. This winter brew is an ode to the colorful characters—those who flatten snow in the wee hours of the night, ascending into darkness without fear, and living in a world of powder. It is for these "Midnight Marauders" that we took some local artisanal roasted coffee from Coda Coffee Company and brewed it up in a stout made up of a complex blend of roasted malts. Enjoy this beer in the morning or evening, to get you through the long winter months.
We are very excited to introduce the Snowcat blend! The Snowcat Blend was born from a partnership with Coda Coffee, and its fruit-forward flavor profile is sure to please. The citrus acidity and floral undertones make for a beautiful cup no matter how you brew it.To purchase the coffee blend and for more details click here!
Visit Coda Coffee's Website to see what else they're brewing!
Share: