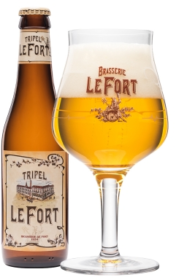 Tripel LeFort is a Belgian beer, it has an alcohol content of 9%.
Tripel LeFort is a golden blonde beer of 8.8% ABV and sets itself apart through its crisp, fruity aroma and beautifully rounded full flavour.  The top-fermenting yeast used for Tripel LeFort results in a beer with vanilla-clove aromas as well as a fruity taste of bananas and red apples. Pleasant hints of citrus, lime and roses make this into a balanced beer that is intriguingly complex at the same time.
A beer with body… the full flavour combined with the alcohol give you a warm feeling that slowly eases away.
Share: