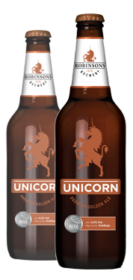 Unicorn is a British beer, it has an alcohol content of 4.3%.
Our award-winning flagship beer! Unicorn was born in 1896 and originally called Robinsons Best Bitter.
Unusually light, agile, yet complex, Unicorn hasn't changed in over a hundred years. It was originally brewed by Frederic for his father William, at the Unicorn Inn, from where the beer eventually took its name, and where the Robinsons Brewery still stands.
Dripping with heritage, it's a magnificent, thirst-quenching, thoroughbred bitter. The first of a bloodline that continues to this day.
Share: