Alesong Brewing & Blending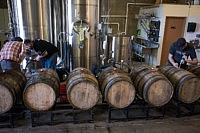 Alesong Brewing & Blending is an American brewery from Eugene, Oregon.

We approach brewing like a musician composing a song. Each beer begins with an inspiration: from nature, food, or an unforgettable experience. Production is patient, personal and reflective; the vision evolves until it is brought to life in the glass. Like the song, each beer is our expression, but the enjoyment and interpretation is yours. Cheers!
At Alesong, we strive to brew unique and creative small-batch beers through a focus on oak aging and Belgian-inspired brewing techniques.  We brew both wild and non-wild beers, utilizing locally grown fruits and herbs and a host of special yeast and other microbes to create a harmonizing experience in the glass. The majority are matured in oak barrels for anywhere from three months to three years before they are ready to blend and package for your enjoyment.
Share:
No News