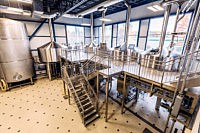 Allagash Brewing Company is an American brewery from Portland, Maine.
Allagash Brewing Company is dedicated to crafting the best Belgian-inspired beers in the world. Best known for our flagship beer, Allagash White, we also enjoy aging beer in oak barrels (beginning with the launch of Curieux in 2004) and spontaneously fermented beers (beginning with our traditional Coolship in 2007).  Come up and visit us – we'd love to show you around.
History
Allagash Brewing Company started in 1995, as a one-man operation in a small corner of a warehouse in Portland, Maine.
Founder Rob Tod had worked in a brewery setting before and recognized a void within the craft brewing movement. While both German and British styles had become prevalent throughout the U.S., the ever-creative Belgian styles were very difficult to find. Through his travels, Tod had sampled many of these unique beers and wanted to share these flavors and traditions with the American drinking public. He assembled a small 15-barrel brewhouse from used equipment and began his quest towards the production of traditional Belgian-style ales.
Rob sold his first batch of beer – the very first Allagash White – in the summer of 1995.  Since that time, Allagash Brewing Company has grown and expanded – now we're available in 17 states and the District of Columbia.  But we're still brewing beers on that brewhouse Rob welded together, still aging and bottling specialty beers in the warehouse where the first batches of White were brewed, and still striving to share our interpretations of Belgian-inspired beers.
Share:
No News