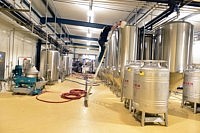 Brewery Anders "Different" is a Belgian brewey in halen.
History
Founded in 2011 by Bart Durlet and Davy Daniels. In March 2012 the first brew was brewed.
Otherwise brewery! does not produce its own beers, but specializes in working with and developing recipes commissioned by the customer, such as associations which let brew their own beer, cities and municipalities that want to launch a regional beer and craft brewers who want to commercialize their recipes. In addition, keep the brewery engaged in recipe development, production and loonafvullingen. There beer is brewed for breweries and organizations throughout Belgium, but also breweries in Spain, Netherlands, France, Germany, Italy, Finland, Sweden …
Otherwise brewery! brews in volumes of 4000, 6000, 8000 and 12,000 liters. The automated brewhouse, it is possible to brew 6 brews per day. The annual capacity is 15,000 hectoliters per year by the end of 2013. In 2015 this rose to 20,000 HL.
In 2016 began Brewery Anders! the construction of a new (additional) brewing in a building near the current brewery. This results in an initial increase in capacity up to 35,000 hectoliters. Next year it can be extended to 80.000HL
Share:
No News