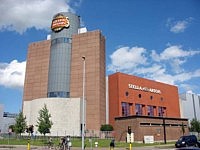 Anheuser-Busch InBev SA/NV also called AB InBev is a multinational beverage and brewing company with global headquarters in Leuven, Belgium.
Additional main offices are located in New York City, São Paulo, St. Louis, London, Mexico City, Johannesburg, Toronto, Buenos Aires and others.The company was enlarged in October 2016 when AB InBev purchased SABMiller and concluded a merger of the two entities. It was the world's largest brewer even before the acquisition of SABMiller and is considered one of the largest fast-moving consumer goods (FMCG) companies in the world. The estimated annual sales for the company in 2017 will be US$55 billion; prior to the merger, ABInBev had realized US$45.5 billion in revenue in 2016. The company is expected to have an estimated global market share of 28 percent, according to Euromonitor International.The company has recently announced a commitment to secure 100% of its purchased electricity from renewable sources by 2025.
The original AB InBev was formed through successive mergers of three international brewing groups completed in 2008: Interbrew from Belgium, AmBev from Brazil, and Anheuser-Busch from the United States. In October 2015, Anheuser-Busch InBev announced a successful all-cash bid to acquire multinational competitor SABMiller for £69 billion (US $107 billion). Shareholders for both companies approved the merger on 28 September 2016. The deal closed on 10 October 2016. The new entity has approximately 500 beer brands in 50 countries as of January 2017, up from the 200 that ABInBev had prior to the merger.
SABMiller ceased trading on global stock markets. The company subsequently sold the former SABMiller's interest in MillerCoors to Molson Coors, sold many of the former SABMiller's European brands to Asahi Breweries and sold much of its Coca-Cola bottling and distribution interests to the Coca-Cola Company.
Anheuser-Busch InBev SA/NV is a publicly listed company, with its primary listing on the Euronext Brussels. It has secondary listings on Mexican Stock Exchange, Johannesburg Stock Exchange and New York Stock Exchange.
Share: