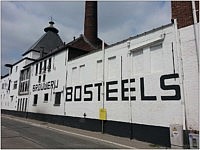 Bosteels Brewery (Brouwerij Bosteels) is a brewery in Buggenhout, Belgium. The brewery was founded in 1791 and was owned and operated by the same family till its seventh generation decided to sell to ABinbev in September 2016. Bosteels brew three beers: Tripel Karmeliet, DeuS, and Pauwel Kwak.
Built on respect for the past
Bosteels Brewery stands in the small village of Buggenhout. Adjoining the spacious inner courtyard, the handsome and dignified buildings rise up from the ground: the former family residence and the old whitewashed towerbrewery The listed brewhouse is built to the designs of the architect Minnaert (Minnaert Theatre, Ghent). Inside you can discover the magnificent salon.
Seven generations
The brewery has been in the hands of the Bosteels family for over 200 years and seven generations. Their forefather, Evarist Bosteels, established the brewery in 1791. After that came Jozef, who had three sons: Frans – for thirteen years the Mayor of Buggenhout – Martin and Lodewijk, of whom the first two learnt the brewer's trade. Leon Bosteels, Martin's son, later took over the helm, after which in 1938 Antoine Bosteels carried on the brewing dynasty as Leon's son.
Away across the borders
Our special beers are available in tens of countries inside and outside Europe.
Share: