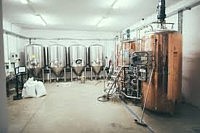 Brasserie C is a Belgian brewery/pub near Liege.

History
Founders Renaud and François met during their agricultural studies. Both were fascinated by the universe of brewing, and they found their interest and approach to the craft were complementary. It was on school bench that for the first time they discussed their vision of a company environment and of course their undeniable passion for beer. In beer they saw enormous opportunities for creativity, and they realized that by using simple, natural and local components, they had found an ideal purpose that corresponded perfectly with their personalities. Though still just a rough layout, their adventure was about to begin.
They then spent three years to envision, elaborate on, build and refine their project. After countless experiments, lots of tests and adjustments to get it right, they eventually developed their signature beer, Curtius.
By participating in STARTER (RTBF), their labor during the launch phase came to a head, and for the first time, they were able to glimpse the outlines of their dream. In 2012, the year of its launch, demand for Curtius reached volumes that were far above initial expectations. This demand generated interest among large Belgian retailers and corporations, and earned coverage in several types of media
The production area
We have installed state-of-the art, newly built brewing technology. It allows us to produce efficiently to a professional standard, monitor our beer quality, and save energy wherever possible.
In addition to Curtius, a product that has become a local favorite to the people of Liège, we bring you seasonal beers of various character that will be served exclusively at the brewery.
In order to experience other brewing cultures, we collaborate with guest brewers from other regions of Belgium as well as other countries. Liège has long been a city of beer lovers, and our goal is to use our new, exclusive creations to find new synergies among our regular visitors and connoisseur foreign guests.
We seek to create a place that is accessible to everyone, allowing them to follow the life of a craft beer from the barley fields to the glass. We support this goal by developing multilingual media that accompany the brewer's explanation during guest visits.
Share: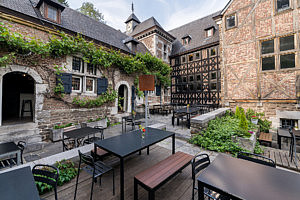 As you know, our brewery is growing. You have certainly followed the progress of the work on our social networks (Instagram account and Facebook page). After several months of work and waiting, our new tanks have finally arrived in Liège! In the coming weeks, we will gradually install all of our future brewery in rue ... Read More