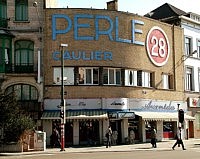 Brasserie Caulier is located in Péruwelz, only two kilometres away from the Franco-Belgian border and close to Bon Secours, the village that is home to the Caulier family. The brewery site lies at the heart of Picard Wallonia, a region that is well known for its large number of quality beers. The current team, comprised of ten enthusiastic employees, has been brewing and bottling quality beers for over 20 years. All in all, the Caulier brewery takes pride in its beer expertise that was built up over more than four generations.
A respect for tradition
Brasserie Caulier strives to re-create the pure taste of yesteryear. This is why we are only brewing unfiltered, unpasteurised beers that re-ferment in the bottle. Natural, lively character beers are what we are aim for.
The very best local ingredients
In addition to the exceptional spring water (the region is famous for its springs), the master brewer will use only the very best sugars, malts and of hop varieties, carefully selected from local suppliers.
Unique bottles
The beers are bottled and finished with a swing top before being lowered into massive wooden crates. We also produce large sizes, ranging from 1.5l to 18l (the largest beer bottle in the world), to highlight the exclusive character of our beers.
Share: