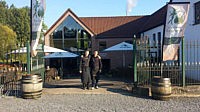 Welcome  to the heart of the site tasting Brewery Legends, Brasserie Quintine. Here is a brief summary of its history. After the restoration of his farm, Gérard Philippe realized his dearest wish: to install its own brewery. In 1993, the first brew was Quintine delight the taste buds.
New horizons opened for Quintine Brasserie, Brasserie Legends was born. Many investments were made during the recovery: bottling room, guard room, winery, … The brewing room allows February-March brews 15 hectoliters per day. The fermentation room contains 2 tanks of 65 hl and the guard room 5 tanks of 45 hl. The bottling room has a capacity of 3,000 bottles per hour.
Pierre and Vinciane Delcoigne, owners of these places, you have Gilles and Felix. Two independent young proud to show you the beers of the Brewery Legends in the heart of the establishment "At Arena of Legends".
With their team, they will be happy to welcome you to make you taste their terroir dishes and a good craft beer.
Share: