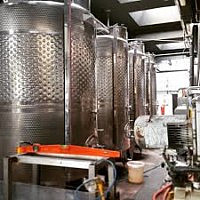 Brasserie des Sources is a French brewery from Saint-Amand-Les-Eaux.


Brasserie des Sources (Brewery of the Springs) was founded in 1997 by French film icon Gerard Depardieu and fellow actors from the film adaptation of Emile Zola's 1885 novel Germinal. While shooting the film in Saint-Amand-les-Eaux, Depardieu and friends decided to start the brewery as a 'thank you' to the local town, creating jobs in this economically depressed corner of France.
Believe it or not, France does have something of a brewing tradition – Northern France in particular has a strong Flemish influence (it's next to Belgium's Flanders after all). As if to prove this, Brasserie des Sources' Bellerose Blonde won a gold medal at the International Beer Challenge in 2011 and 2012, the first time a French beer has ever won consecutive golds at the IBC!
Share:

Style:

Pale Ale

Alcohol Content:

6.5%

Global Rating:
No News