Brasserie du Val de Sambre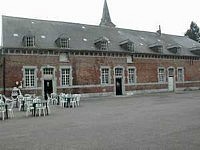 The Brasserie du Val de Sambre is a Belgian brewery, located in Gozée in the entity of Thuin, Hainaut (Walloon Region of Belgium).
History

Since the Middle Ages, the monks of the abbey of Aulne brewed two kinds of beers. In 1752, a fire destroyed the brewery which was rebuilt in 1796. But before 1850, the brewing activities of the abbey had completely ceased.
Since June 2000, the abbey beers have been brewed again in the site of the Cistercian ruins of the Abbey of Aulne and more particularly in the old stables dating from the 18th century which were restored in 1998.
Share: