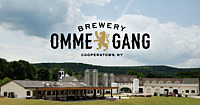 Brewery Ommegang is an American brewery from Albany, New York.

A Tradition Born in 1549
Holy Roman Emperor King Charles V visited medieval Brussels in 1549 with hundreds from his Royal Court. To welcome the King, merchants, vendors, cooks, brewers, musicians, theater troupes, dancers and more lined up around the city walls and joined in a celebration as his entourage passed by. That parade became known as the "Ommegang," a word that variously means "coming together" and "walking about." The Brussels Ommegang Festival continues to this day.
The First Farmhouse Brewery in America in 100+ Years
Belgian breweries Duvel Moortgat, Affligem, and Scaldis join with importers/entrepreneurs Don Feinberg and Wendy Littlefield to build an authentic Belgian-style farmstead brewery in Cooperstown, NY. They locate this cultural transplant on an old 140-acre hop farm in the Susquehanna River valley, in a part of upstate New York once known as Nova Belgium.
Share: