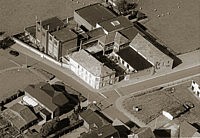 In the 14th century, when the first brewing guilds became very popular, Henricus De Bloc already had obtained the brewing right, as a vassal of the Duke of Brabant and Bourgundy. However it is Louis De Block, at the same time miller and agriculturist and married with a brewersdaughter from the rural Baardegem, who would give the start for the brewery De Block in 1887. With ambition, persistence and love of work they surely should succeed.
Supported by their children, always growing in the finesses and details of the trade, it was a pleasure to work. Everyone liked the beer very much and the whole family was honored and recognized for their great job. And with the time, their generations passed by, the roaring twenties with father Alfons De Block, his brothers and his sisters, and later changing of the guards, and every season turns.
These days Mieke De Block together with her husband Paul Saerens are at the head of the brewery.
Share:


Style:

Dubbel

Alcohol Content:

7.5%

Global Rating:

Style:

Blonde Ale

Alcohol Content:

7.5%

Global Rating:

Style:

Amber

Alcohol Content:

5.5%

Global Rating:

Style:

Amber

Alcohol Content:

6%

Global Rating:


Style:

Blond

Alcohol Content:

8%

Global Rating:

Style:

Tripel

Alcohol Content:

8%

Global Rating:

Style:

Mixbeer

Alcohol Content:

6%

Global Rating:

Style:

Pilsener

Alcohol Content:

4.5%

Global Rating:

Style:

Pilsener

Alcohol Content:

4.3%

Global Rating:
No News