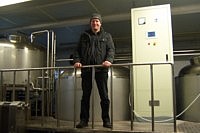 Brewery De Graal is a Belgian craft brewery, located in the East Flemish town Brakel.
Brewery De Graal is a young, The Grail craft, yet automated brewery located in Brakel, in the heart of the Flemish Ardennes.
The brewery licensed brewer Wim Saeyens has been active since 2002 and has seen steady growth in that time.
Partly thanks to continuous investment in new technologies brewery De Graal managed to continue to monitor the rising demand for high quality beers. Especially the export to countries like the US, Japan, Italy and Denmark is really on the rise.
Besides the main activity, the brewing of six different beers under its brand The Grail (-> Beers) in producing specialty beers in the brewery demand is also specialized (-> Beer custom).
Share:
No News