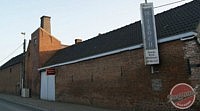 19th century land-use plan of the area mentions a brewery owned by a certain Petronnella De Troch.
Even older records indicate that her father, Pieter De Troch, was running a brewery on the same site in the late 18th century. Petronnella married Egidius De Troch and in 1898 their son Louis took the family business over. Louis Married J. De Neve, and their son, also Louis, inherited the brewery and farm in 1936. The same Louis married M.L. Van den Moortel.
Their nephew Jos Raes and his wife M. Vanderhasselt took on the family tradition in 1974 and have been running this rare craft brewery ever since. In 2002, their son Pauwel Raes joined his parents into the family business.
In July 2012 Pauwel & his wife Kristel Schelfthout took over the brewery to continue the brewery tradition !
Brewery De Troch offers 14 different types of beer, all brewed in our own house brewing factory. Our mission is to brew the highest quality hand-crafted beers and ensure that guests to our taproom and beer garden enjoy our cervezas and hospitality for a fun and memorable experience. Each recipe was meticulously developed using only the best ingredients and technique.
Share:

Style:

Gueuze

Alcohol Content:

5.6%

Global Rating:
No News