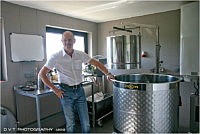 DijkWaert specialises in the production and sale of artisan-made,
exclusive luxury foods such as beer, wine, liqueur and the like.
History
Carine Van Dyck, together with her ex-partner signed a financial adoption contract
for a baby from the Philippines who was entrusted to Carine's family immediately after its birth.
After her divorce, she met Hans Wierts, and they got married on 04/06/2010.
Meanwhile, Tibor, the adopted child, proved to have a serious hereditary disorder,
with high medical costs as a result.
Attempts to get him to Belgium failed.
This left us with only two options: either send our savings to the Philippines,
or invest the cash saved into something likely to make even more money.
That's why Carine and Hans set up DijkWaert on 07/04/2010.
On 3 October 2011, they finally managed to get Tibor into Belgium.
Tests carried out at the University of Leuven revealed that he had the worst possible form of Haemophilia.
For us, this meant kicking off the adoption procedure.
On 28/06/2013, the juvenile court in Turnhout approved the adoption.
Both of us had held three jobs concurrently for a number of years, but the burden proved too high.
In August 2012 we had already asked Maarten, Hans's youngest son,
if he was keen to join our family business.
In the meantime, DijkWaert has grown steadily.
We will be moving to a new larger site and brewing equipment soon.
Share: