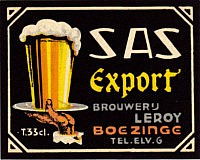 In the middle ages, the Spanish conquerors build a sluice in Boezinge and next to it a brewery was created. Since the Flemish dialect for sluice is sas, we named the brewery SAS. During WW1 the entire region as well as the brewery have been bombed and completely destroyed, that's why we don't have records left before that time. But it seems that the brewing started in the 17th century, what would make this one of the oldest breweries of Belgium.

Since Adolf Leroy, the noble art of brewing has been a tradition from father to son. The use of modern machinery, the craftsmanship by our brewing masters and the natural and regional ingredients, are a guarantee for the quality of our beers, ales, mineral waters and lemonades.
By constantly investing and innovating, Hendrik & Philip Leroy are the 7th generation of family brewers, that are preparing and guiding, the 8th generation of Leroy brewers, to guide the company throughout the 21st century.
Share:
No News