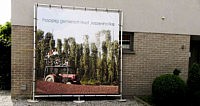 Jessenhofke is a beer company in kuringen, there beers are currenly brewed at Brouwerij Anders
Kuringen, a peaceful village close to Hasselt, where the local inhabitant sits in the village pub under the churchtower drinking a pint, probably not knowing that he's in one of the rare villages in Flanders where biological beers are brewed. In the Jessenhofstreet there has been flowing beer through the brewkettles for some time now. The name of the street clearly shows where brewery Jessenhofke got it's name.
Gert chose when starting to only brew biological beers, a choice based on his ideological views. Starting a biological brewery wasn't very easy when you know that back then there was only one brewery that solely brewed biological beers.
To get a bio label you need to have certain conditions in your company. The bio label shows that at least 95% of the ingredients in a product are biological, which means that there haven't been any chemical products used on the product. It's also not allowed to use artificial smell, colour or taste products or use genetically modified ingredients. To check if these conditions are used independent supervision agencies will do frequent tests on the product. There have to be certificates on everything from the raw materials to the production process. Because of that these materials are much more expensive that the ordinary product.
There are over 900 sales outlets in 10 countries. 22% of our beers are exported, mostly to The Netherlands where EkoPlaza a biological supermarketchain with 65 stores is one of our most important distribution channels. 15% of our customers will buy the beer personally.
Gert shows together with other biological Belgian brewers that biological beers are clearly a growing market and that aspiring for the best quality should stay the main goal in this sector.
Our logo the squirrel has the following story: The squirrel is a totem-animal with a couple special characteristics. He is a collector and builds stocks to be ready for everything. In the winter he falls back. Something Gert does. He is always on a search for the best ingredients to brew his beer, but in the winter he likes being at home with a nice pint.
We wear the official European logo for bio. We are 1 of the 3 Belgian brewery's that have solely biological beers. We only use the Belgian biological hops of Joris Cambie from Poperinge.
Share:
(Nederlands) brouwerij jessenhofke ziet mooie toekomst voor biologische voedingApril 9, 2021 (Nederlands) eau de biere & nieuwe bieren om de lente te vierenPosted by  Gert Jordens Sorry, this entry is only available in Dutch. Share: ... Read More