Klosterbrauerei Weltenburg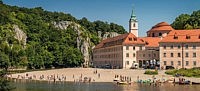 Klosterbrauerei Weltenburg is a German brewery from Hamburg, .

The Weltenburg Abbey was founded at the beginning of the 7th century by Abbot Eustasius, converted by St. Boniface into a Benedictine monastery and elevated to an abbey by Duke Tassilo. Weltenburg, the oldest monastery in Bavaria, became the mission headquarters for this region.
The first evidence of a brewery in Weltenburg monastery can be found in the Weltenburg Nekrologium, where it is noted that in 1035 the master brewer died. Another scientifically recognized source is a protocol entry in the more than 900 years old "Libellus Traditionum" from the period shortly after or before 1050.
In the scarce millennium to the present day, the monastic beer production in Weltenburg was interrupted only by the secularization from 1803 to 1846. In 1846, the brewery returned to monastic ownership, where it remains to this day. The monastery brewery Weltenburg can be rightly described as the oldest monastery brewery in the world.
Share:
No News