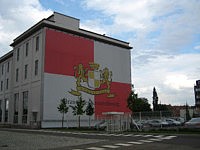 Kronenbourg is a French Brewey founded by Geronimus Hatt, but is now part of the Carlsberg Group.
History
Geronimus Hatt, who obtained his Master Brewer's certificate in 1649, started up the Canon Brewery in the Place du Corbeau in Strasbourg. His son Claude (born November 1665), succeeded his father in the trade in 1683. However, the frequent flooding of the River Ill compelled in 1850 a move to the higher terrain of Cronenbourg, an area of Strasbourg.
In 1922, the Hatt Brewery changed its name to Tigre Bock, the most well-known brand of the Tiger Brewery it had acquired to become the leading brewer in Alsace. Following the Second World War, Kronenbourg became the name of the company, and began international expansion. In 1970, it was acquired by industrial group BSN (now Groupe Danone), along with the Société Européenne de Brasseries (Kanterbräu). In 1986, Kronenbourg merged with Kanterbräu.
In 1952, the 1664 is commercialised in honour of the coronation of Her Royal Majesty Queen Elizabeth II.
British company Scottish and Newcastle (S&N) plc acquired it in 2000 for £1.7 billion. In April, 2008, S&N's operations were sold to Heineken and Carlsberg, the latter acquiring Kronenbourg.
Its main breweries are in Obernai and in Champigneulles, although the Champigneulles site is now up for sale.
On 2 April 2015, Brasseries Kronenbourg launched a new corporate identity which it will use in corporate communications. It was designed by Carré Noir, which has been the brewery's design agency for several years. According to a press release, the new logo reaffirms Kronenbourg's identity as a French brewer with 350 years of history.
Share:

Style:

Pilsener

Alcohol Content:

4.8%

Global Rating:
No News